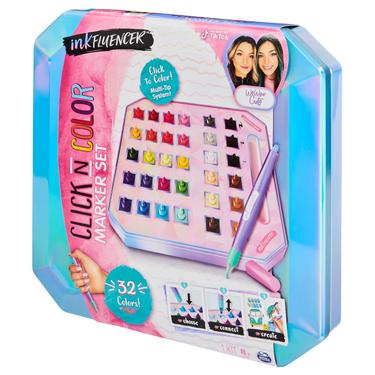 Ibrands Influencer Click in Color
DESCRIPTION
ALL-IN-ONE MARKER SET: The Click N Color Marker Set includes 2 styluses, 32 marker tip colors (3 come in different widths!) and a storage case! To draw your own colorful designs, all you need is paper!
32 MARKER TIPS: With 32 marker tip colors to choose from, create drawings as vibrant as you! Customize your art with the 3 black marker widths and share your finished artwork with friends!
DRAW WITH A STYLUS: It's so easy to use the included styluses! Press one into a marker tip until it clicks, then draw! Push the tip back into the tray, click the button to release and change colors!
The inkFLUENCER We Wear Cute Click N Color Marker Set is a DIY kit and makes a great gift for girls aged 8 and up. Choose, connect and create with inkFLUENCER!
BACK TO TOP