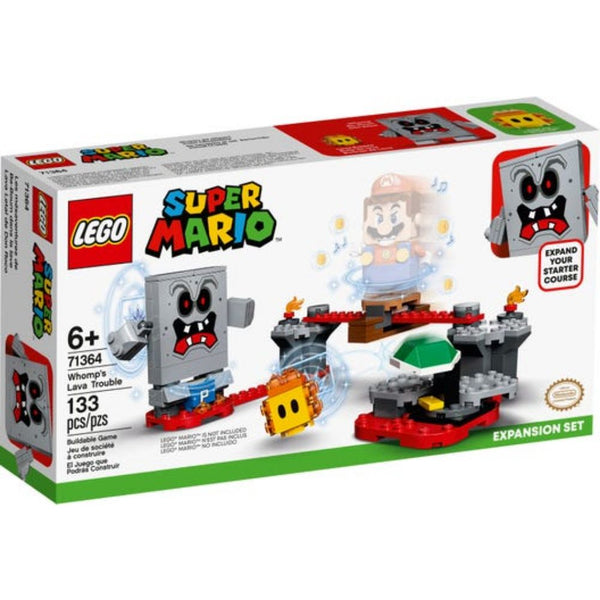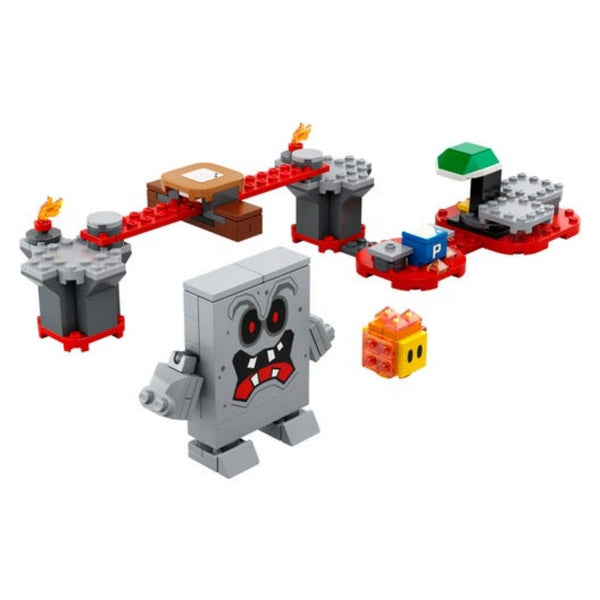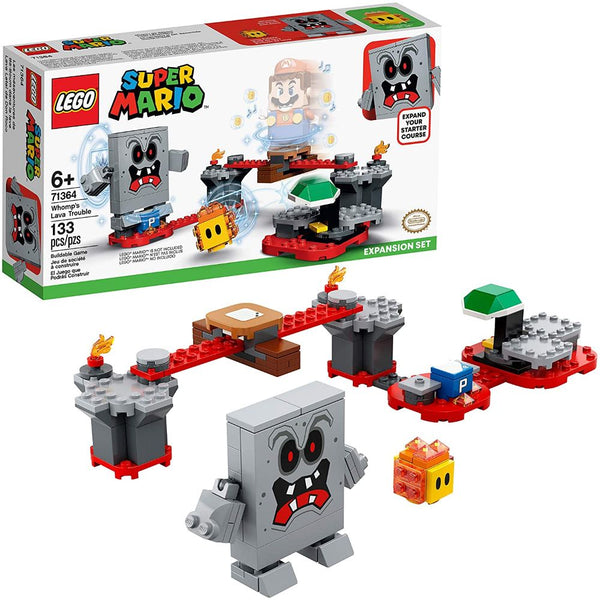 Lego Whomps Lava Expansion Set(133 Pieces)
DESCRIPTION
Kids can create an action-packed new level to add to their LEGO® Super Mario™ Adventures with Mario Starter Course and compete against friends with this Whomp's Lava Trouble Expansion Set (71364).
The player can build their own challenging course with a sliding platform for LEGO® Mario™ (figure not included) to balance on, Whomp and Lava Bubble figures, and the P Switch, which is found only in this set.
Kids will love seeing and hearing the different ways LEGO® Mario™ reacts as he encounters each enemy and earns a shower of digital coins for doing tricks after defeating the Whomp and activating the P Switch.
This 133-piece, creative LEGO® toy playset makes a fun birthday or holiday gift for kids aged 6 and up to add to their Adventures with Mario Starter Course (71360), inspiring them to build and customize their own levels.
Measuring over 3" (8.5cm) high, 8.5" (22cm) wide and 6.5" (16.5cm) deep in its basic formation, this module can be rebuilt and combined with the Starter Course and other Expansion Sets in multivarious ways.
No batteries required for this playset – combine it with the LEGO® Mario™ figure in the Starter Course to power up the action.
Kids can find building instructions, cool digital viewing tools and a safe platform to share their ideas on the free LEGO® Super Mario™ app. For a list of compatible Android and iOS devices, visit LEGO.com/devicecheck.
Collectible LEGO® Super Mario™ toy building sets bring an iconic character into the real world. They allow fans to expand and rebuild to create their own levels to enjoy solo or in competition against friends and family.
Builders won't need a Super Star's power to connect or pull apart LEGO® bricks! Ever since 1958, the bricks have met the highest industry standards to ensure consistency and a perfect connection.
LEGO® bricks and pieces are extensively tested and analyzed to ensure that every LEGO building toy meets the highest global safety and quality standards.
This set features Digital Building Instructions. Now it's easy to follow the steps on your mobile device or download a PDF of the printed building guide. Click the Building Instructions button at the bottom of this page to find and download the instructions.
Age 6 years and up.
BACK TO TOP