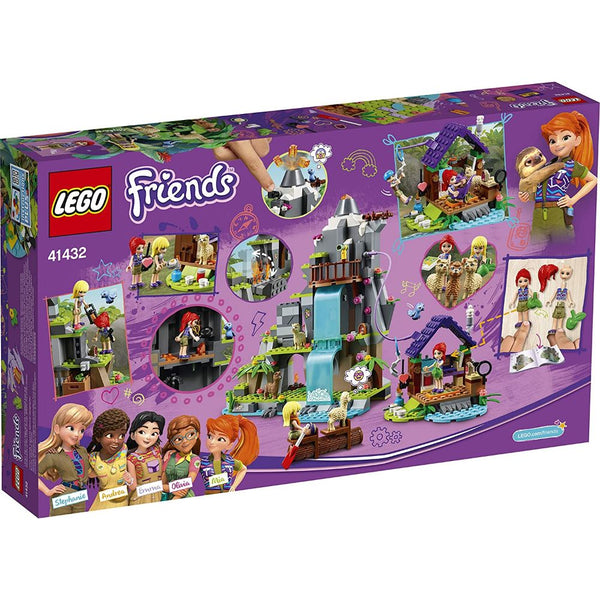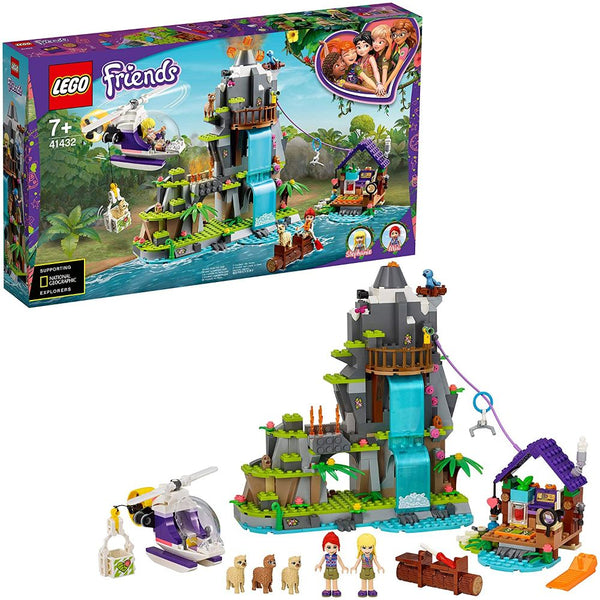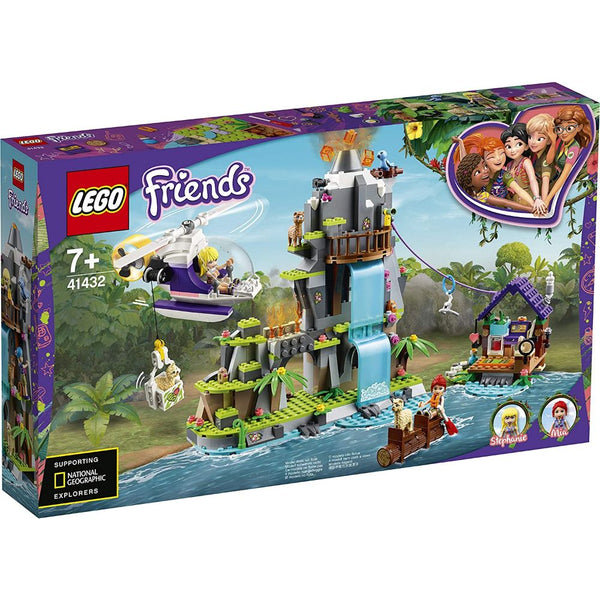 Lego Alpaca Mountain Jungle Rescue (512 Pieces)
DESCRIPTION
LEGO Friends is proud to support the work of National Geographic Explorers, who use their creativity, curiosity and passion to protect endangered species in our jungles and help build a better world for all of us.
Immerse children in exciting mountain adventures with this colourful and detailed brick-built exploding volcano building toy for kids who love action play, exploring nature and caring for animals. • With Alpaca Mountain Jungle Rescue (41432), kids can play out exciting jungle stories with the help of LEGO Friends Stephanie and Mia buildable mini-doll figures, 3 alpaca figures and cute bat and bird figures. 
Kids can pretend to climb the mountain, report the eruption and whizz down the zip line to the toy cabin. They can paddle the canoe or fly the rescue helicopter toy. When the jungle rescue's over, they can explore the caves. 
There are lots of ways to play with this 512-piece mountain adventure toy, making it a brilliant birthday present or Christmas gift for boys and girls aged 7+ who love rescue adventure play and caring for animals. 
Measuring over 8" (22cm) high and 7" (20m) wide, this volcano toy makes a great display centrepiece. It's compatible with all LEGO sets, so kids can combine it with any other LEGO bricks for truly creative fun. 
This mountain playset needs no batteries. Instead, clever design brings the play to life – a button function shoots out lava elements and opalescent bricks help make the cascade's water look like it's actually falling. 
The action begins with the build! All LEGO toys come with a clear guide, but this one also has Instructions PLUS on the LEGO Building Instructions app, where kids can view their creation in rotate, 3D and zoom modes!
LEGO awesome toys have met the highest industry standards, plus the LEGO Group's own rigorous quality criteria, which ensures that they connect perfectly and pull apart easily every time – it's been that way since 1958. 
LEGO Friends bricks and build kits are tested to the max, which means this building toy for kids meets the highest global safety and quality standards – and might even withstand a volcanic eruption!
BACK TO TOP